Residential and Commercial Moving Services in Fauquier, VA​
Looking for the perfect moving company in Fauquier, Virginia? Carmack Moving & Storage is here to provide you with dependable moving services you can trust. We are both insured and licensed to help make your move a success with top-tier service that includes accurate, fair, and in-depth quotes. Whether you're moving to a new home or relocating your company to a new office space, we have all of the resources and collective experience required to keep the move efficient throughout.
Residential Moving in Fauquier and More
As reliable professional residential movers in Fauquier, we can cover every aspect of the moving process from packing to arrival. Apart from moving, we offer packing, loading, and storage to keep your entire moving experience stress-free. When packing, we wrap each item while keeping all doors, floors, and banisters protected. When moving, we'll help with everything from planning to logistics to keep everything smooth.

When moving into your new home, you can also benefit from using our residential storage units located in Sterling if you want to further ease the transition. Whether you're preparing for a move and require temporary storage space or merely want to reduce the amount of clutter currently present in your home, you can use this service in addition to our Fauquier moving services.
Commercial Moving and Relocation Services in Fauquier
In addition to our residential moving services, we also provide commercial moving services in Fauquier for businesses that could face significant downtime when making the transition into a new office. Similar to residential moves, we'll be able to cover every aspect including the planning process, packing, logistics, and delivery.

When moving into a new office space, our professional and reliable movers will ensure that your building and furniture are protected at all times. Our GPS system can make the move even more efficient, allowing our truck drivers to travel using the quickest routes. We also offer national and local employee relocation services.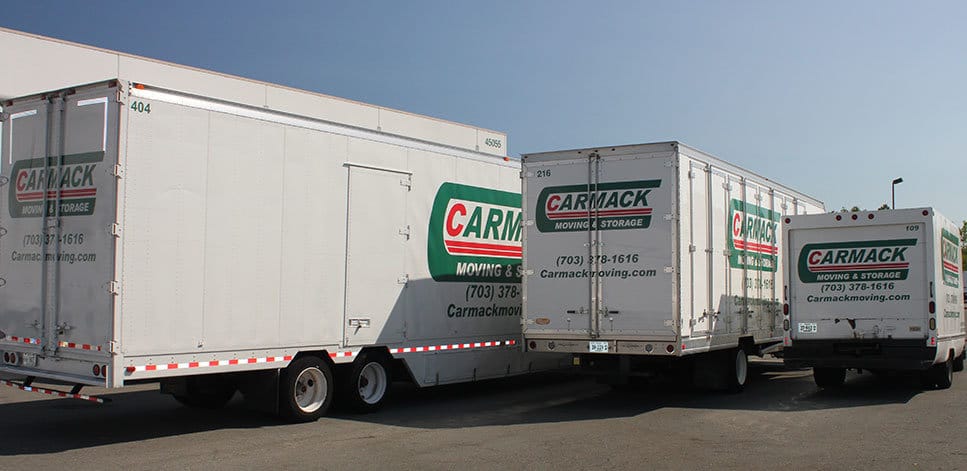 Benefit from Moving Services in Fauquier at Some of the Best Rates
If you're worried about the total cost of moving services in Fauquier, Carmack Moving & Storage will help ensure you don't pay any more than you need to for some of the best services available. We'll provide you with an accurate quote for our services prior to getting started, which helps make sure you understand what goes into the final cost without overlooking any pricing factor. We'll then work with you to ensure your satisfaction from the time you need to pack to the arrival at your destination.

To get started with Fauquier moving services from Carmack today, call us today or request a quote online
Here are SOME areas we've had excellent moves: